If you know me you probably know that writing a post about recognition or honors received is rather uncomfortable for me. I am much more comfortable sharing the latest doggie adventure in the studio. But I feel like I owe it to those that believed in me so much to take the time and care to nominate me for two extraordinary honors to write about it. I also feel the need to recognize the amazing people in my life that made it possible for me even to be on the radar to be nominated. I'm not trying to build up the recognition (or myself especially) to be more than it is but rather to just give thanks and to accept the recognition with great appreciation. It's also fun to look back and realize all of the people that have played a huge part in me.
My parents Bill and Dot Dunaway believed and still believe in me. I am so blessed. Even after my "I'm going to be an art major" announcement after my first year in college they trusted that I would not do the "starving artist" thing (and hoped that multiple piercings, tattoos and pink hair would not follow). The proud smiles I get from my parents still make my heart melt (a kid is never too old to love having parents that believe in her!). My sisters believed in me, too. As the youngest by a bit, my sisters were my second set of parents. Their belief in me inspired me and still inspires me so very much.
Then there is Jason Cyr. He found a common ground to lure me into conversation with art and photography (yes, he was the aggressor ;)). His interest in and belief in me as an artist astounds me. There were many times that I wanted to break away from art:  I often felt that my art was a time-consuming hobby that took hours away from higher paying jobs, deadlines for commissions often stressed me out and trying to do the art thing in conjunction with my MAED and other jobs just felt like too much (it seemed that art would be the obvious thing to unload off of my plate). Jason was always there believing in me so much that it seemed like a slap in the face to him if I didn't try to believe in myself too.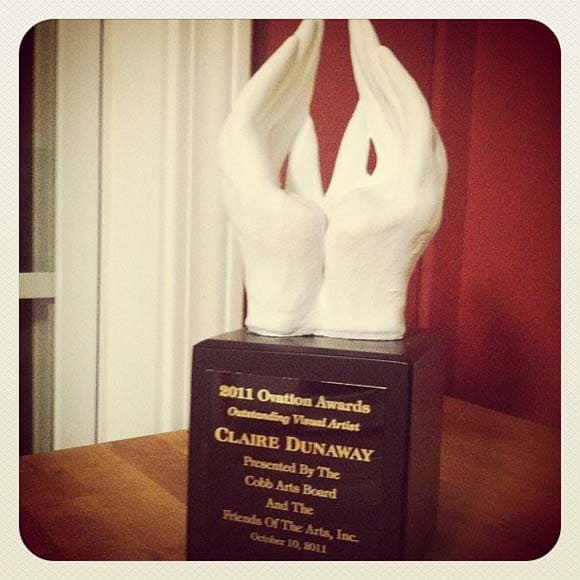 After I moved back to Georgia and accepted my position as the art teacher at Ford Elementary (I had just completed my student teaching in high school) I thought that I was just buying myself a year of salary and benefits while anxiously awaiting a good high school opening for the following school year. This experience is a true testament to things that happen for a reason (and that often our plans are not a great as the plans that are laid out for us). I fell in love with elementary art (the students, the projects, the school… LOVED it) although I was basically self-teaching myself to teach elementary. During my second year of teaching, Jane Swanson entered my life. She was the specialist parapro and had her "home base" in my room. An amazing veteran teacher herself, Jane mentored me about expectations, organization, elementary classroom management, etc. Her impact is greater than I can express. She basically took my artsy skill set and made it conducive to the elementary classroom. She believed in me as a teacher, artist and person.
For the past three years I have had the opportunity to exhibit at the Earl Smith Strand in Marietta, Ga. It took Earl Reece believing in me for the first year of Art Walk exhibits (and taking a chance on me with so many well-established artists in the community) at the Strand to raise my confidence as an artist to a new level. Christy Rosell was right there with Earl encouraging me and helping this indecisive artist brain decide on themes, ideas, presentation, etc. It's amazing to have those wonderful people around that have allowed me to bounce countless ideas off them. Sally Macaulay, Carolyn Morris, Carol Thompson, Elizabeth Cossick and many others have believed in me and offered wonderful exposure and opportunities; I am truly grateful.
While I was on my honeymoon with my fabulous husband I found out that I was chosen as Cobb County's "Outstanding Visual Artist" for the Ovation Awards:  bliss on top of bliss! It still has not sunk in that I was the recipient of the award; it is just too much. As you can see above, the beautiful hands on the Ovation Award are original and created by a local artist… too cool! The day I returned from my honeymoon I was informed that I had been chosen "Class Act" teacher by 11 Alive and Donna Lowry. I am still speechless over this incredible honor. I don't want to "call out" those that nominated me but I just want them to know how extremely grateful I am. I am humbled because I did not earn either of those honors by myself but rather with the belief, inspiration, love and hard work by those around me.

Here is the video to the "Class Act" segment if you would like to watch. What a treat to get to have Donna Lowry creating a clay pinch pot fish with us!
11 Alive's Class Act with Donna Lowry Featuring Claire Dunaway