It feels so good to have the new studio all set up! No more painting in the temporary storage closet and hitting my head on the ceiling every other painting session!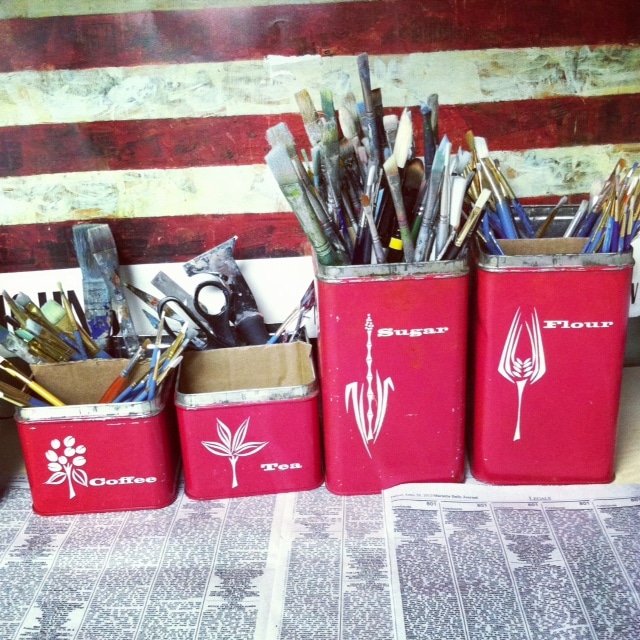 Besides the fabulous work benches built by Jason (kits available on Amazon!), my favorite "new" items in the studio are my fabulous old kitchen tin paint brush holders (found on eBay!). I'll be filling up my inspiration board soon (it's actually a damaged canvas that I was too lazy to send back… it serves it's purpose to protect the wall until we get pegboard installed). The little tin can fish head (treasure found at an art festival) holds my tape in his mouth so that I never misplace it. My painting work bench is deep enough to display a few books, magazines and inspiration journals. In order to adjust to a flat workspace (I usually work horizontally with a little incline), I found these cool stackable rubber bumpers to tilt the canvas when painting and will also serve a great purpose in lifting the entire canvas off of the work surface when finishing the sides of a canvas. My easel stores perfectly beside the work bench for the times that I need to work vertically. I love all of the little details in my new studio!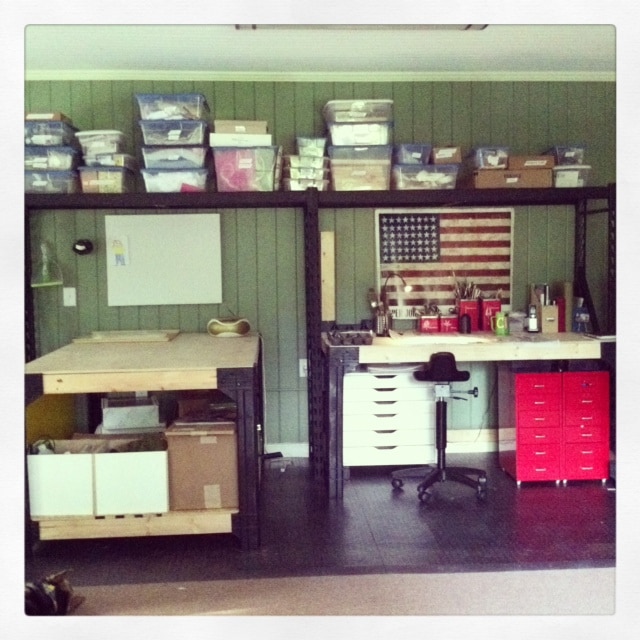 One of my favorite little 'justification' quotes reads "Creative minds are rarely tidy." No exception here. But, notice that my husband's OCD for clear spaces, labeling and organizing with similar containers is rubbing off on me. Although it does not come naturally, I love a clean slate on which to work and I find myself cleaning and putting things away often so as to enjoy all of that free space that makes me feel, well… free.
I'm off to create in my happy space!