The title is a little sad, I know. I promise to have a happy ending; we artists that like to create happy endings tend to find a way.
Let me also say that before I started writing this post I did some research on doing a negative post about a person or business. After all, the only post I have written that points out a potential negative was the detective challenge for Clifford Bailey versus Todd White (I still get curious emails and comments on that one!). I found out that libel is only when someone puts out untruths with the intention to harm. Being that I am writing our factual experience with this jeweler and have the email exchanges and broken rings/pictures to prove these truths I will put our experience out there for others to read. So, here goes…
Jason always knew I was not a "solitaire" girl. Don't get me wrong; many of my friends have gorgeous perfect solitaires and I love the rings on them. It's just not me. I also never wanted a ring that broke the budget. We stumbled upon a blog post about Melissa Joy Manning's amazing diamond slice rings. We were instantly in love but most of the ones we were smitten with were a bit out of our price range. We were then delighted a few months later to discover Priyanka Sodhi. She is another artist that creates diamond slice rings. Her rings were within our price range. We found her through Etsy and were instantly drawn to the fact that she is a "one-woman shop;" she is truly an independent artist. Jason made contact with her and he showed me a few diamonds here and there to get a good idea of size, desired clarity, etc. Although Jason was being a bit elusive I had a good idea of what would be on my finger sometime in the future.
The first ring was beautiful. I struggled very much for a few days; the diamond was gorgeous but quite a bit smaller than what we decided on. And smaller than what Jason payed for I feared. I didn't want to say anything to Jason but after being read like a book (he tends to do that) I had to admit that observation to Jason. My observation was justified; the stone was almost 3mm smaller than what Jason paid for (that goes to show that sometimes details need to be pointed out to guys!). Priyanka admitted her oversight immediately. In hindsight I wonder about her true "oversight." She told me to wear the ring until she found a new stone (at this point she actually did offer a refund if we wanted one but we wanted to stick with her). Within a few weeks time the diamond in the ring I was wearing cracked down the middle. Priyanka was not too concerned as she said it must have been a defective stone. We sent it back as we were planning to do anyway and Priyanka found a beautiful new diamond that we loved.
During the setting process the next diamond cracked. Priyanka emailed me to inform me of this and expressed frustration with her diamond supplier. We were very concerned but Priyanka led us to believe that her supplier was using faulty stones. After hearing Priyanka's opinion on white gold versus sterling silver with the pressure on the stone we decided to go with sterling silver for the next stone with a diamond from a new supplier. We felt good as Priyanka assured us that the new slices would be thick enough for setting and that the sterling would be more friendly to the diamond slice. We waited while Priyanka searched for a new slice and we finally found one. You can see the picture below; the diamond is stunning with interesting inclusions and an intriguing streak of orange running through it. It was the third diamond we've chosen from Priyanka and we thought it was just perfect.
I received the ring on May 19th. I was delighted. People were intrigued with it; it was so beautifully unique. One of the reasons I feel a need to write this post is that I passed Priyanka's name and website to so many people with high recommendations and a follow-up of our now unfortunate experience is needed. On a side note, I handled my ring with utmost care. I did not wear my ring in my classroom or studio when working with messy materials or with anything that could be tough on jewelry. Nonetheless, on July 11th a piece of my ring fell out onto my keyboard as I typed. I then noticed three places around the edges of the diamond near the setting that had fallen out. Jason and I were devastated and we both agreed that we would want a refund this time and not a new ring. We also expressed to one another how badly we felt for Priyanka as we just assumed we were working with a person that would do the right thing.
I emailed Priyanka and kindly told her what happened to the ring. I was beyond disappointed when Priyanka replied to my email with confusion about how this could happen to two of her rings (I think that she forgot about the third one that cracked in her studio) and that she could not do anything for us except offer a discount on a whole new ring. She claimed that her warranty was for 30 days. Her website stated "All items are made to order and carefully handcrafted by myself. If for any reason you are not satisfied with your purchase I accept exchanges for unworn merchandise within 30 days of receipt for store credit." I responded explaining that a warranty/guarantee on a product that breaks is entirely different than a customer being "unsatisfied." She replied, (for a ring that lasted 53 days) "If you were looking for a lifetime warranty on your engagement ring then you should have purchased your engagement ring from somewhere else because its not stated in my policies that I offer a life time guarantee…" We emailed a few times that day. I approached her first with great kindness assuming the right thing would be done, then with a business approach upon realizing that she was going to leave us out in the cold and then finally with an emotional approach. I asked her how she could feel good about doing this to a couple that chose her for something as precious and meaningful as an engagement ring. I asked her how she could do this as an artist. I asked her how she felt about a guy spending all of his savings with her and being left with nothing. Each time I was met with a cold response from Priyanka, "I have made my offer to provide you with a new ring at discount. I don't think its fair to keep asking for a new ring each time one gets damaged. Its your property and its under your care…" I asked her for her phone number so that we could discuss this in a way other than email. She never responded. To say that we were devastated is an understatement. Paypal and Visa could not help as it had been over 45 days. That was either luck that swung Priyanka's way or she is very smart about the payment window. Jason initially left Priyanka positive feedback on Etsy and unfortunately they can not go in and change it. She has 100% positive feedback. We know from one transaction now that her feedback rating is not a true reflection of satisfied customers. I would be willing to bet she is aware of the "no change" policy for feedback.
Jason composed himself, talked to a lawyer friend and took a good picture of the diamond ring (as only a photographer can capture without the reflection and glare). He emailed Priyanka a few days later with the picture. He pointed out "implied warranty." He pointed out the fact that since she pursues customers in the United States that she is subject to our laws. Since she lives and works in Canada there is not much that we could feasibly do but we could try to "scare" her into doing the right thing. She responded to Jason with her absolute final offer to Jason was a refund of half of the price of the ring. After a bit of consideration he took her up on her offer. Again, we could not force her to give any money back but her offer came only after a little legal jargon. If Jason pushed further and she realized that there was truly nothing we could do we then Jason would probably end up with no money back.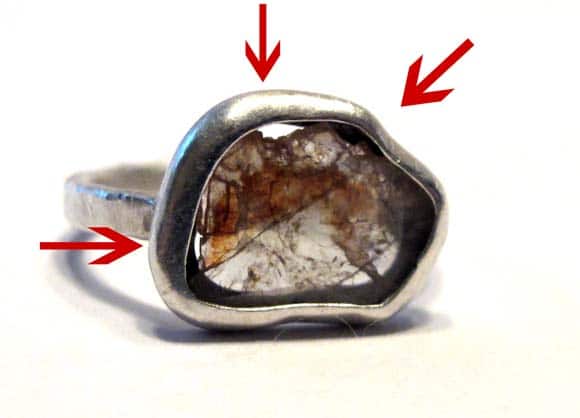 This post is not for revenge. It will hopefully prevent this from happening to another couple. I wish someone had written this post for us to read a few months ago. The treatment of customers outside of the payment and feedback window (the "safe zone" for the merchant if you will) is inexcusable. Moreover, we had an expert look at the ring and we were told that a diamond cut in such a flat fashion with little thickness (and Priyanka did reassure us that this diamond was "thick" and suitable) is not stable and will not stand up to daily wear over time. I believe Priyanka is aware of some bad "press"; she removed her twitter account and her facebook group page the same day a negative tweet was put out about her referencing her business through her twitter account. Perhaps that was a coincidence. Apparently she has gotten rid of her social media outlets for now. But she still uses her website, blog and her Etsy shop (PSodhi) through which she conducts her transactions.
I only speak of the rings and artist we have experienced first hand; please do not misunderstand this to mean that Melissa Joy Manning's rings are not of the best quality and reliability. I firmly believe she is working with diamonds of an entirely different quality and thickness and she had built her name into a sought-after brand. That usually does not happen by accident. This post should actually encourage anyone that wants a diamond slice to spend the extra money for a Melissa Joy Manning product (and of course check on the warranty/guarantee which I would think she has…)
Now, I said that I would end on a happy note. Here are a few. My sisters (and parents, too) offered our Mima's ring to me. It is stunning and so meaningful. We are going to have two extra bands added around the existing thin band to add some more stability and it is going to be lovely. Mima's ring is almost 80 years old; that's how a ring should last! Judy Raiford of Raiford Gallery is designing our wedding bands (she IS amazing and will back her work up!). I'm not going to give away the surprise for those but I will give the teaser that there will be some stamping involved on those and we are beyond excited.
Here is a little happy ring, too. It was my purchase from the Virginia Highlands show. In the midst of restricting myself from art purchases due to the water heater fiasco I saw this artist and her rings. It was $16 or $18 dollars and I just loved the message. I justified the small break in my spending frieze with the smile this ring put on my face. I looked at this ring often during my angry time with the expensive ring and smiled. "Find Your Happy." (Picture below. That's Jason's hairy finger; not mine). It's so simple. And I have. I have found my happy. I didn't need a ring to do it but I'm thrilled and blessed at the end of the day that there is a happy ring involved (and several more happy rings in the making)…